Motoko Honda: Keyboard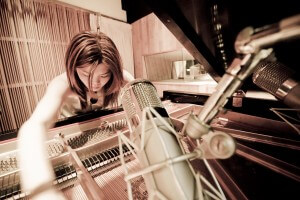 Motoko Honda, a native of Japan, is a concert pianist, composer, and sound artist who has created a distinctive sound through her holistic approach to music, and her exceptional sensitivity in relating to other art forms and technologies.  Employing a "virtuoso technique paired with her intensely imaginative mind" (Susan Dirende, L.A. Splash Magazine), and with stylistic influences ranging from jazz to Indonesian music to contemporary prepared piano, Motoko's performances transport audiences on sonic adventures that transcend the boundaries and conventions of contemporary music. Motoko is a musical force of nature, bringing a unique creative sound to her wide-ranging collaborations. www.motokohonda.com
Savannah Jo Lack: Violin, Banjolin, Vocalist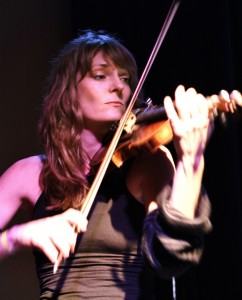 Sometime around the age of four, Savannah Jo Lack was bitten by a violin. Whilst not fatal, the incident did leave her with a strange mark on her neck and a long-standing love of all things string. Fast-forward several decades and Savannah has left her own strange mark on the world.  She and her violin have carved several enviable niches, none of which could completely contain them. Savannah has performed as an orchestral violinist with the Qld Symphony Orchestra, a jazz improviser with Kai Eckhardt, a session musician with Alanis Morissette, was the recipient of a Golden Fiddle Award in 2004 and a Churchill Fellowship in 2006 and performs regularly as a session musician and arranger in San Francisco and Los Angeles. www.savannahjolack.com
Bouchaib Abdelhadi: Oud, Dunback, Arabic and French vocal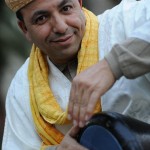 A native of Casablanca, Morocco, Bouchaib has enjoyed a distinguished musical career on both sides of the Atlantic. After performing throughout the kingdom of Morocco, he arrived in the United States in the early 1990s where he has become a much-sought-after multi-instrumentalist and vocalist of Middle Eastern and North African traditions. Bouchaib plays the dombek, oud, violin and sings in French and Arabic.
Recent career highlights include a 2002 collaboration with Pharoah Sanders on music for Alonzo King's Lines Ballet Company, recording for Omar Sosa's CD (SENTIR), performing with Stephen Kent, and Trance Mission, as well as critically acclaimed performances at the 1998 San Francisco Ethnic Dance Festival.  In 2003, Bouchaib composed and performed "Heart Song" for Alvin Ailey American Dance Theatre and played with Carlos Santana at Stern Grove in San Francisco.  Bouchaib has also worked with artists from such diverse music traditions as Klezmer, Hindustani, jazz, and rock.
Marc van Wageningen (Marc VW): Electric Bass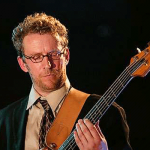 Marc was born and raised in Amsterdam, Holland and started playing bass guitar at the age of 16. He moved to the San Francisco Bay Area in 1980 and started playing with jazz greats Eddie Marshall, George Marshall, Larry Schneider and Mel Martin.
Over the years, Marc has had the opportunity to play with numerous musicians including: Sheila E, Tower of Power, George Duke, Vince Welnick (Grateful Dead), Cornelius Bumpus (Doobie Brothers, Steely Dan), Steve Smith (Journey), RAD (Prince), Pete Escovedo, Mark Murphy, Francisco Aquabella, Keiko Matsui, Luis Conte (Madonna), Stan Getz, Esther Phillips, Paul Winters, Diane Reeves, Andy Narell, Steve Halpern, Steve Erquiaga, Ray Obiedo, Second Sight, Rebecca Mauleon, Tom Grant, Tom Coster (Santana), Mark Russo (Yellow Jackets).
Jimi Nakagawa: Taiko drumming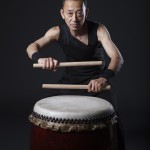 Born and raised in Tokyo, Japan, Jimi Nakagawa started playing drums when he was in high school and performed with local bands before coming to the US in 1981. In 1987, Jimi joined the San Francisco Taiko Dojo, directed by Grand Master Seiichi Tanaka and became a performing member and instructor to adults and children. In 1997, he returned to Japan to continue his study of taiko and to perform with Sukeroku Daiko Hozonkai and Master Kenjiro Maru of the Wakayama style festival music. In 2009 and 2010, he was given a grant to study "tsuzumi (a Japanese hand drum)" with Master Saburo Mochizuki in Tokyo. In addition to studying Japanese traditonal music, he has studied jazz with celebrated drummer, Robert Kaufman, a former professor at the Berkley College of Music.
In 1999, he and three other members founded a San Francisco Bay Area based taiko group, Somei Yoshino Taiko Ensemble and started his taiko school, OH-IN TAIKO, in Oakland. After 11 years of performing in the ensemble, he left the group in 2011 to pursue his career as a solo artist and expand his taiko school. Jimi has collaborated with Robert Moses and Robert Moses Kin, Dr. Anthony Brown and the Asian American Orchestra, Steven Kent, Habib Kahn, Nguyen Le, Frank Martine, Mary Fetting, Sheldon Brown, Ali Ryerson, Charles Loos, Van Anh Vo and Aaron Germain to name a few. Jimi's refined but driving stick work has been featured in film, video and on stage. For more information, please go to http://www.jiminakagawa.com/
Jason Jong: Taiko drumming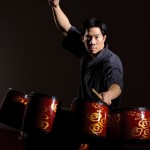 Jason Jong is an active supporter of the Bay Area arts and progressive community and founder of the pan-Asian collective Asian Crisis, which strives to develop an Asian American aesthetic through the intersecting waves of ancient and contemporary rhythms and sound. He sees the charge of Asian Crisis to create compelling new music that engages its audience to reflect on our common humanity in hopes of finding new solutions towards peace and social justice.
Through his own music and performance he is constantly searching for a unique and personal voice guided by the spirit of traditional folk music. He has performed with Conductor and Composer Yuenlin Chen, Anthony Brown and the Asian American Orchestra, Melody of China, Kulintang Dance Theater, and Gen Taiko.
Percussion studies include an ACTA Apprenticeship with Chinese Percussion Master Wang Wei, Danny Giray of Kulintang Dance Theatre, Melody Takata and Gen Taiko, Matsuri Shu of the Taiko Center of Japan, folk musicians of Hachijo Island, Professor Eugene Novotney of Humboldt State University, and a 10-year ride with the Sacramento Mandarins Drum and Bugle Corps.  His experiences in the arts and passion for youth have led him to lead the Pride of Oakland Drum and Bugle Corps, Hei Gu Chinese Percussion Ensemble, and Chinese Dragon Dance classes in Oakland, CA.
During the "day", Jason is a grants administrator with the City of Oakland's Craft and Cultural Arts and Marketing Division, Cultural Funding Program, where he is at the service of Oakland artists and non-profit art organizations throughout the community. Prior to working with the Cultural Funding Program, he was instrumental in the creation and development of pan-Asian, multi-disciplinary cultural arts programs and exhibitions at the Oakland Asian Cultural Center.