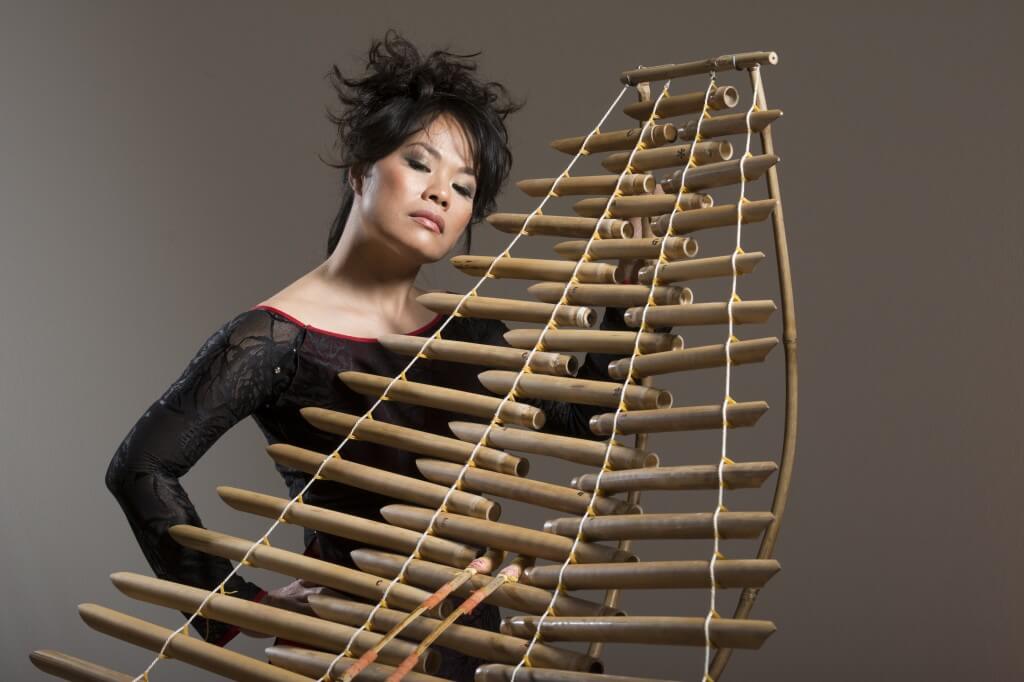 Vân-Ánh Võ: Vietnamese traditional multi-instrumentalist/Composer/Vocalist/Festival Music Director
Vân-Ánh Võ comes from a family of musicians and began studying đàn tranh (16-string zither) from the age of four. She graduated with distinction from the Vietnam Academy of Music, where she later taught. In 1995, Vân-Ánh won the championship title in the Vietnam National Đàn Tranh Competition, along with the first prize for best solo performance of modern folk music. In Hanoi, Vân-Ánh was an ensemble member of Vietnam National Music Theatre as well as a member of the traditional music group Đồng Nội Ensemble, which she founded and directed. She has since performed in more than fourteen countries and recorded many broadcast programs in and outside of Vietnam.
In addition to touring internationally, Vân-Ánh has presented her music at Carnegie Hall, Zellerbach Hall, Lincoln Center, Kennedy Center, and as a composer and guest artist for the Kronos Quartet at the Olympic Games 2012 Music Festival. In 2002, Vân-Ánh released her first CD, Twelve Months, Four Seasons; and in 2009, she released She's Not She with award-winning composer Do Bao. Recently, she released her third CD Three-Mountain Pass with the Kronos Quartet as her guest artist. Three-Mountain Pass was selected to be in top 10 of NPR Best 10 World Music CD of 2013.
"Vo's 'Three Mountain Pass,' which includes her music and traditional Vietnamese pieces played on a number of Vietnamese instruments interestingly begs the question of what is American music, especially since a knockout on the disc is her transcription of French composer Erik Satie's "Gnossienne No. 3." – Mark Swed; Los Angeles Times
"It's gorgeous and sentimental. I loved the way she stretched that note [on dan Bau]. It almost sounded like slide guitar. It felt like bluesy too." –Betto Arcos; NPR All Things Considered Weekend Edition
"The dramatic interest, unusual instruments and playing techniques coupled with stellar musicianship, keen visual interest and a stage presence to die for all contributed to its status as a masterpiece." – Johnathon Bakan; SF Asian Music Examiner
"The music is rhythmically compelling – it weaves a story through the notes; a walk in mysterious woods or whatever the imagination can conjure up. The music is quite hypnotic in nature, the notes of the stringed instruments in particular so malleable they can express a range of emotion in a single wavering note." – Anya Wassenberg; Art & Culture Maven
"Indeed, Vo's energy and enthusiasm for musical creativity seems to transcend any particular instrument and instead feed off a fundamental sonic curiosity, as well as a desire to reflect on her cultural heritage and share those sounds with new ears. Vo draws strong connections between American jazz and the improvisation involved in traditional Vietnamese music." –Molly Sheredan; New Music Box
"Vân-Ánh Võ is a mesmerisingly awesome, and Emmy award winning zither player (among other instruments), and someone who is not only fascinating to hear, but fun to watch. My entire exposure to zithers up to this point was the soundtrack to The Third Man, so I associated zithers with laid-back cool. Vân-Ánh takes it to a whole other level. She moves about that zither with the crazy self-confidence of someone who's completely mastered an instrument, it's pretty inspiring stuff … Vân-Ánh, on the other hand is energetic, striking poses behind them [Kronos Quartet], focused, iconic looking and always giving it her all." – London City Night Review, 2012 London Olympic
"Her appearance was dramatic in stunning costume and headdress, her music was riveting, her stage presence theatrical, and her contribution to Vietnamese musical culture outstanding." – Heather Morris; Peninsula Review
"In fact, the visuals [of All Clear] were so well incorporated into the rich and diverse sonic landscape that I felt like I was experiencing temporary synesthesia. My senses of sight and hearing merged into one." – Chloe Veltman; ArtsJournal
Vân-Ánh dedicates her life to creating music on the đàn tranh and fusing Vietnamese musical tradition with fresh new structures and compositions. Since settling in the San Francisco Bay Area in 2001, Vân-Ánh's has focused on collaborating with musicians across different music genres to create new works, bringing Vietnamese traditional music to a wider audience, and preserving her cultural legacy through teaching.
Beside the Kronos Quartet, she has also been collaborator and guest soloist with such artists as Southwest Chamber Music, Grand Houston Opera, Yerba Buena Center for Performing Arts, Nguyên Lê, Paul McCandless, and Ali Ryerson. Continually cultivating the beauty and versatility of the đàn tranh, Vân-Ánh has been co-composer and arranger for the Oscar® nominated and Sundance Grand Jury Prize winner for Best Documentary, Daughter from Danang (2002), the Emmy®Award-winning film and soundtrack for Bolinao 52 (2008), and the winner of multiple "Best Documentary" and "Audience Favorite" awards, A Village Called Versailles (2009). On February 2014, Vân-Ánh has received Artist Laureate Award from Silicon Valley Creates for her dedication in promoting Vietnamese traditional music and culture and support Silicon Valley communities through the arts.
In addition to đàn tranh, Vân-Ánh also performs as soloist on the monochord (đàn bầu), the 36-string hammered dulcimer (đàn tam thập lục), the bamboo xylophone (đàn t'rung), the open-ended bamboo tubes (đàn K'lông pút), traditional drums (trống), and Chinese zither (guzheng). She lives and teaches đàn tranh and other Vietnamese traditional instruments in Fremont, California. For more information, please go to www.vananhvo.com