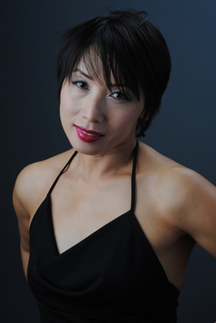 For the very first time on our stage, we are honored to bring you our one and only very first Vietnamese American jazz vocalist of the bay area: Thùy Linh. At this year's show, Thùy Linh and her Quartet will open our program during cocktail hour with her mesmerizing and soothing vocals. She will also introduce our highly-acclaimed designers and their beautiful escorts who reign various prominent pageants.
Self-taught and drawn to jazz in college in 1990 by the classic voices of Ella Fitzgerald, Sarah Vaughan, Billie Holiday, Nat King Cole and Louis Armstrong, our Thùy Linh is a petite chanteuse (4′ 11″) with a surprisingly low and rich pitch that glides warmly between lyrical sensuality and pensive nostalgia. She credits her love of singing to the melodious songs she heard growing up in our Vietnamese community. And she credits her unique style and exotic sound to a most unusual personal history for a singer of American Jazz.
In November 2013, she and composer Nguyễn Dự created Jazz is You! Jazz Là Em!  with the mission to bring jazz into the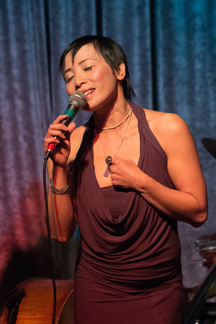 heart of the ethnic communities and make it accessible. This is a volunteer collaboration of community musicians and patrons with a dream to educate and expose our communities to this great American art form. Its programs aim to introduce to the community most current and up-and-coming talents throughout the greater bay area. Venues include ethnic hubs where the community likes to gather regularly. Jazz is You! Jazz Là Em! recently hosted a few jazz jams that drew standing room crowds of at least 150 guests. This tremendous turn-out and on weeknights proves that the community is thirsty for new musical sounds beyond the traditional Vietnamese music, both pop and folk.
Currently, she is creating original compositions in collaboration with her best friend, the poet Bashou. The first series, Lotus Child: Survivors of Human Trafficking Rise to Greatness!, honors human trafficking survivors supported by Pacific Links Foundation. The second series, Lady Moon: the Irrepressible Hồ Xuân Hương – 18th Century Feminist Poet, celebrates the untamed spirit of HXH's politically astute erotic poetry.
Learn more about Thùy Linh at: http://about.me/ThuyLinhJazzVocalist
Facebook:  https://www.facebook.com/thuy.linh.90813
E-mail address: kylatl@yahoo.com