2014 Ao Dai Festival

NBC BayArea – Media sponsor for the Ao Dai Festival
---
Free admission to the San Jose Museum of Art!

TIcket holders to Sunday's Ao Dai Festival evening performance can visit the San Jose Museum of Art for FREE! on Sunday before the festival. Present your tickets to the Museum of Art registration. Will call ticket holders visit the Ao Dai information booth for your ticket/voucher.
Thank you San Jose Museum of Art!
Ao Dai Festival comes
to the San Jose Fairmont
Ao Dai Festival includes musical retellings of Vietnamese legends
METRO NEWS April 29, 2014 – by Gary Singh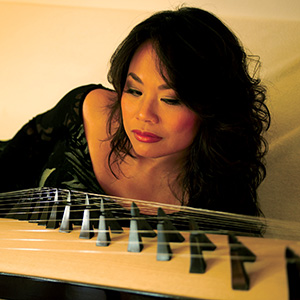 The third official Ao Dai Festival, a colorful multidisciplinary spectacle of Vietnamese history, music, dance and culture, will erupt on several levels this Sunday, both outside and inside the San Jose Fairmont.
see article
---
Unable to get Youtube feed. Did you supply the correct feed information?
Constantina and Christian, rehearsing for the upcoming Ao Dai Festival, May 4, 2014 at the Fairmont Hotel in San Jose http://ww.aodaifestival.com. Look for more updates soon.
---
Announcing NBC BayArea as Ao Dai Media Sponsor

Look for Ao Dai ads featured on NBC BayArea, launching Asian Pacific Heritage Month.
---
Vanessa Van-Anh Vo 2014 Silicon Valley Creates Artist Laureate recipient



Ao Dai Festival III's musical director was selected as the 2014 Silicon Valley Creates Artist Laureate. "Van-Anh Vanessa Vo devotes her life-long passion and mastery of the dan tranh zither to the creation of distinctive music blended with a cultural essence that can only come from this unique Vietnamese instrument." Read more about her here.
March 2014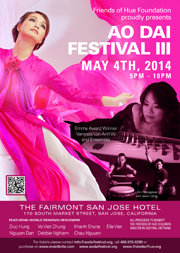 Posters and flyers are now ready to distribute. Contact Jenny at jenny.do@1000fineevents.com if you would like to display at your business, or know places to distribute.
February 15, 2014
Ao Dai Festival III kicks off it's launch meeting.
Tickets available online at:

Exciting announcements will be coming shortly.
---
October 1, 2012
Ao Dai Festival on YouTube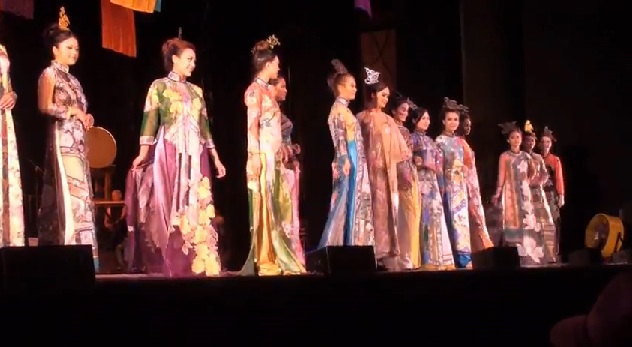 http://www.youtube.com/watch?v=XAhbyUEJVMk

Saturday, Sept 15
The Ao Dai Festival was a spectacular success!
Thursday, Sept 13
Ao Dai Poetry Painting
Mixed-media artist virtuoso, Dao Hai Trieu, will take his canvas masterpieces and create poetic art on the ao dai while the models are wearing it. Don't miss this masterful artist in a first-time demonstration in the CPA plaza at 4pm.
Wednesday, Sept 12
Read all about the Ao Dai Festival in the Spartan Daily, San Jose State University. Cmille Nguyen (Twitter @camillediem) interviews Spartan alumnis Jenny Do and Trinh Mai who is curating the event's art exhibit in the Ridder Lounge at the Center for Performing Arts.
http://spartandaily.com/80665/festival-aims-to-bring-awareness-to-vietnamese-culture
Tuesday, Sept 11
Jenny Do will be interviewed on Signature Silicon Valley, CreaTV (San Jose Cable) tonight at 7pm. Tune in. Also, streaming on CreaTV.org.
Bay Fashion Magazine covering event
Check out Bay Fashion Magazine featuring the Ao Dai Festival
They will be there at the festival. www.bayfashionmag.com
Monday, Sept 10

Meet, Jacqueline Bhagavan, Mrs. California Outstanding Married Woman of the Year, 2012 during intermission at the Ao Dai Festival. http://jacquelinebhagavan.com/?p=164 She is coming straight from a photo session in San Francisco for the FOOD NETWORK.
Miss Vietnam 2010 Ngoc Han will perform at the Ao Dai Festival II September 15, 2012.
Sunday, Sept 9
Ao Dai on KBAY Radio 94.5 FM and MIX 106 FM
Sam Van Zandt of KBAY Radio will interview Jenny Do Sunday morning between 6am -7am. Wake up early and you might win FREE tickets to the Ao Dai Festival!
Thursday, Sept 6
Media Coverage and Listings:
AsianWeek
http://www.asianweek.com/2012/08/31/vietnamese-ao-dai-festival-set-for-sept-15-in-san-jose/
99People
http://www.99people.com/newsite/events-show-eid-1328
SF Gate – San Francisco Chronicle
http://events.sfgate.com/san_jose_ca/events/show/271641105-ao-dai-festival-ii
Wednesday, Sept 5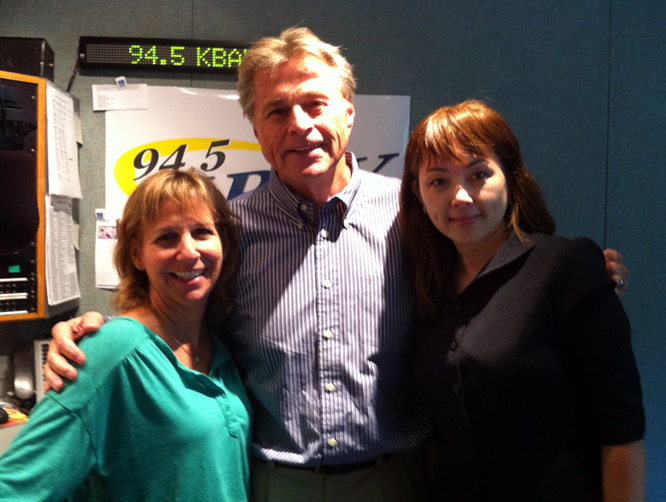 Jenny was interviewed on KBAY 94.5 FM / MIX 106 FM radio this morning. She did a fabulous job. The program will air this Sunday, 9/9. Please tune in.
Scott's Seafood Restaurant has donated two gift certificates for dinner at their Restaurant at 185 Park Ave. San Jose, across the street from the Center for Performing Arts. They will be open the day of the event and is a perfect spot to enjoy an early meal before the program, or a late dinner afterwards.
Scotts Seafood offers a variety of fresh fish, shellfish, and prime dry aged steaks with a 6th floor view of downtown San Jose. Originally opened in 1986 Scotts of San Jose has been a Bay area main stay, known for serving the freshest fish delivered daily from around the world. Recently renovated, Scotts now offers rooftop patio dining and lush interior. Private dining available. Conveniently located withing walking distance from the Center of Performing Arts, San Jose Convention Center, downtown hotels and museums. Serving lunch weekdays and dinner nightly. Reservations Recommended. Happy hour M-F 4:30-7:00pm.
For reservations:
David Buhagiar
Assistant Manager
Scotts Seafood San Jose
T-408-971-1700
http://www.scottsseafoodsj.com/ScottsNoFlash.html